Teams across our 19-county service area in southeast Iowa and west-central Illinois had many accomplishments in 2022. Here are some highlights:
Provided services to 12,255 people with barriers
Offered 514 community job placement services
Diverted 12,874,333 pounds of donated goods from landfills
Distributed $113,195 in shopping vouchers to people in need
Packaged 8,179 metric tons of vegetable oil
Worked with 132 homeless and near-homeless veterans
Engaged 681,725 community donors
Want to know more? Visit People Services and Business Solutions.
We hear that a lot.
"I had no idea you help people with disabilities."
"I had no idea you help homeless veterans."
"I had no idea you just launched a soybean oil packaging plant."
The list goes on, but you get the idea. There is a lot people don't know about Goodwill. Learn more by watching this short documentary ►
Kristin is naturally shy and her struggles with social anxiety prevented her from finding work.
Thanks to assistance from Goodwill's Retail Certification Training program, Kristin not only found the confidence needed to land a job at the Rock Island County Council on Addictions , but she also became comfortable interacting with the public, often initiating conversations.
Her former Goodwill co-workers share that she always has a smile on her face and made positive contributions to their team. When assigned tasks, she could be counted on to complete them in a timely manner.
Her ability to not only overcome her own barriers, but help others do the same is one of many reasons Kristin Duerr was awarded the Trainee Achiever of the Year Award.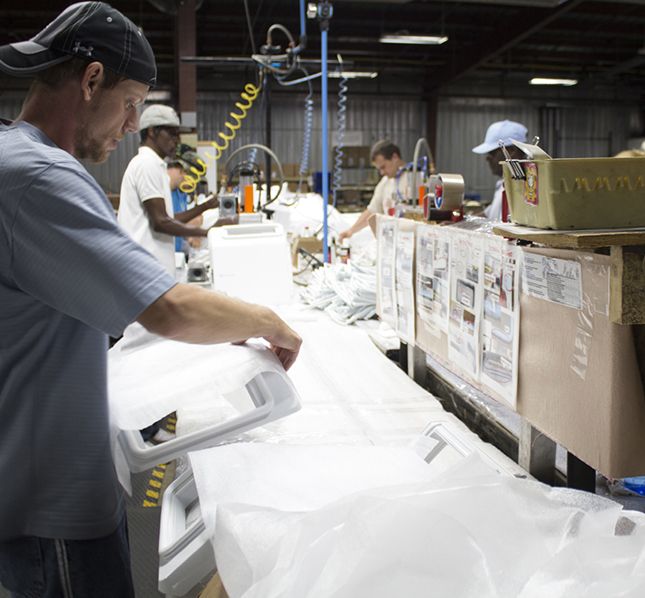 You want your business to succeed. We're here to help. We offer a range of business services to help you keep costs down and hire qualified workers.
Services include:
Employment services — we deliver skilled, motivated employees ready to work
Computer recycling — free, zero-landfill recycling and refurbishing for resale